Born and raised in Oklahoma, Dr. Breanna Batey is a Tahlequah chiropractor who serves Tahlequah, as well as its surrounding communities. After earning a Doctorate of Chiropractic at Logan College of Chiropractic in St. Louis, Missouri, she headed back to start her journey in educating local residents to live happier, healthier lives. Dr. Batey places great emphasis on family too. Outside of family and chiropractic, Dr. Batey has a passion for enjoying God's creations, from hiking and searching for waterfalls, to scuba diving and exploring the deep blue sea.
Dr. Batey uses chiropractic care to improve the health and wellness in all areas of patients' lives, whether they are having problems with back pain or neck pain, or just want to start feeling better when they wake up in the morning. Dr. Batey takes a "whole person" approach in chiropractic care, which means looking for the underlying causes of disease, discomfort, and pain, as opposed to just treating the symptoms. Many seemingly unrelated symptoms often arise from imbalances in the spinal column, and Dr. Batey will be able to determine the root of the pain and create a personalized chiropractic and wellness plan to suit each patient's individual needs. Under the supervision and care of our caring and skilled chiropractor, patients report higher functioning in all areas of their lives.
Dr. Batey's passion is to help people improve all facets of their lives. She is very involved with the community. She is board chair of NEO Health, team chiropractor for Northeastern State University Athletics, is involved with Tahlequah Public Schools Foundation, and even teaches a health and safety class at Shiloh Christian School. Dr. Batey has spoken at events all over the country; her drive is to educate and empower people to help improve their lives with a mission to make a global impact. One of her favorite stories that she lives by is "The Starfish Story" by Loren Eiseley.
The Starfish Story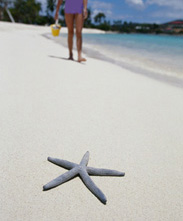 A man was walking along a deserted beach at sunset. As he walked he could see a young boy in the distance. As he drew nearer he noticed that the boy kept bending down, picking something up, and throwing it into the water. Time and again he kept hurling things into the ocean. As the man approached even closer, he was able to see that the boy was picking up starfish that had been washed up on the beach and, one at a time, he was throwing them back into the water. The man asked the boy what he was doing. The boy replied,"I am throwing these washed up starfish back into the ocean or else they will die through lack of oxygen." "But," said the man, "you can't possibly save them all; there are thousands on this beach and this must be happening on hundreds of beaches along the coast. You can't possibly make a difference." The boy smiled, bent down, and picked up another starfish. As he threw it back into the sea, he replied,
"...made a difference to that one."
If you have any questions about our Tahlequah chiropractor, or would like to learn more about chiropractic care at Health First Chiropractic Clinic, please call us at 918.456.1300 today!